Rishi Sunak defends saying he took funds away from deprived urban areas
Rishi Sunak has defended his comments after a video, shared with The New Statesman magazine, shows him telling grassroots Tories in Kent that he had been working to divert funding from "deprived urban areas" towards prosperous towns.
The former chancellor said today that it is not solely "big urban areas that require that extra investment". He told Sky News: "It's right that those funding formulas are accurate, that they actually look at the need in different areas, measure that properly and reflect how things have changed from the past.
"And I think that's an entirely sensible thing to be doing, because it's not just big urban areas that require that extra investment.
"It's also people in rural communities, it's also people in towns and that's what we've done, both as a Government in the past, what I want to do as prime minister in the future.
"Level up across the country so that no matter where people live, they feel incredible opportunities and pride in the place that they call home."
Key events
Sunak is now facing questions. Asked how he will win a fifth term for the Tories, he said the "first thing" is to "have got through this inflation problem by then".
The former chancellor added: "That's why I'm particularly worried about policies that risk making it get worse and last longer. "This is a problem that isn't just for this winter, it's for next winter as well – and beyond."
On demonstrations, Truss says she is "fine with peaceful protest" but people camping out in Parliament Square for weeks on end is "not the same" and it must hinge on not "harming others".
"There is deliberately disruptive activity which isn't just about peaceful protest, it's about trying to disrupt democracy, it's about trying to disrupt everyday life.
"One person's freedom should not mean other people suffer misery."
Truss pledges help children deal with mental health issues resulting from Covid "when they should have been with their friends, they should have been at schools".
She calls for more mental health support in schools to help teachers and says she would support them to offer more wraparound care for children to benefit working parents. Truss added: "One of the big problems parents face is social media and kids contacting each other and winding each other up on WhatsApp… I'm not sure teenage girls are as bad as Tory MPs [on WhatsApp]."
This is the moment Truss was interrupted by the protesters at the start of the hustings.
Truss interrupted again by protester
Truss has been interrupted again by "somebody who shouldn't have a microphone" the audience is told.
It is unclear whether this was a member of the same protest group as earlier.
She said: "I take it as a compliment that I'm so popular with Extinction Rebellion."
An audience member asks Truss if she she knows what Personal Independence Payments (PIP) are and how the government "will ensure we get meaningful employment".
Truss says while she does not know the current PIP level, "what I want is to make it much easier for people in your position to get into jobs and also have the opportunity to set up your own businesses". "I know the Department of Work and Pensions is working on how to make this better. And what I want to do is talk to you about how can we help deal with the issues you face in getting employment, how can we make it better in terms of the available opportunities – including being able to start up your own business, and I would want to help do that as prime minister."
The climate activists who earlier disrupted Liz Truss' speech at the Conservative leadership hustings have released a statement.
Green New Deal Rising said five members "stood up and interrupted" the leadership hopeful's opening remarks to "protest the rising cost of energy bills and the climate crisis".
Truss is now facing questions and reiterates that people should be able to use their rental history to get a mortgage and pledged to look at the student loan situation.
"To ensure students and ex-students are getting a fair deal," she said. "Fundamentally, what we need to do is show people there is hope."
Only around a third of tonight's audience raise their hands when asked if they are "more than 90% sure" who they are supporting in the leadership race with one month to go.
Sunak continues to try and repair the damage from the video footage which showed him saying he diverted funding from deprived urban areas towards prosperous towns.
He said: "I want to level up everywhere. And as you may have seen from a video clip that's online, I don't believe that's just about our very large urban cities.
"I believe that's about investing and levelling up in small towns, in rural towns, in coastal communities like those here in the south-east."
Sunak takes aim at Truss's fiscal policies, which he says would make the inflationary spiral worse.
"We're going to [act] responsibly by being disciplined on financial services and our economy."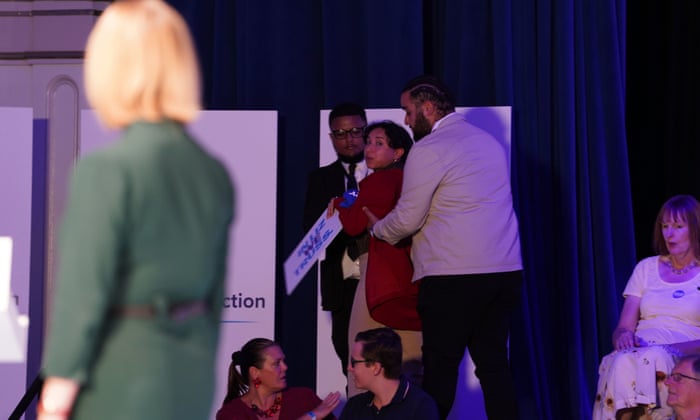 Dominic Raab introduces Rishi Sunak on stage.
On the Covid support he offered, the justice secretary says: "When you needed him, Rishi was there for you.
"And I know as we face another global challenge, the fight against inflation, Rishi is the credible candidate with a credible plan to get inflation down, and to cut taxes, but when it will help, not hurt people. "Because the alternative choice in this contest is unfunded tax cuts to the tune of £50billion which will just put more debt on our children's shoulders. That's not fair, that's not Conservative."
On the issue of migrants crossing the Channel, Truss says she spoke to her French counterpart last week "to make it very clear that we expect French border guards to be working all hours in Dover to make sure that our border is protected".
The interruption prompts Truss to give her view on what she says are "the militant people who try and disrupt our country and try and disrupt our democratic processes and our essential services".
"I would legislate immediately to make sure that we stand up to Extinction Rebellion… and I will never, ever, ever allow our democracy to be disrupted by militant activists."